The easiest homemade cupcakes in the world are fluffy and moist with simple vanilla frosting. This recipe was originally published on July 12, 2010. This post contains affiliate links.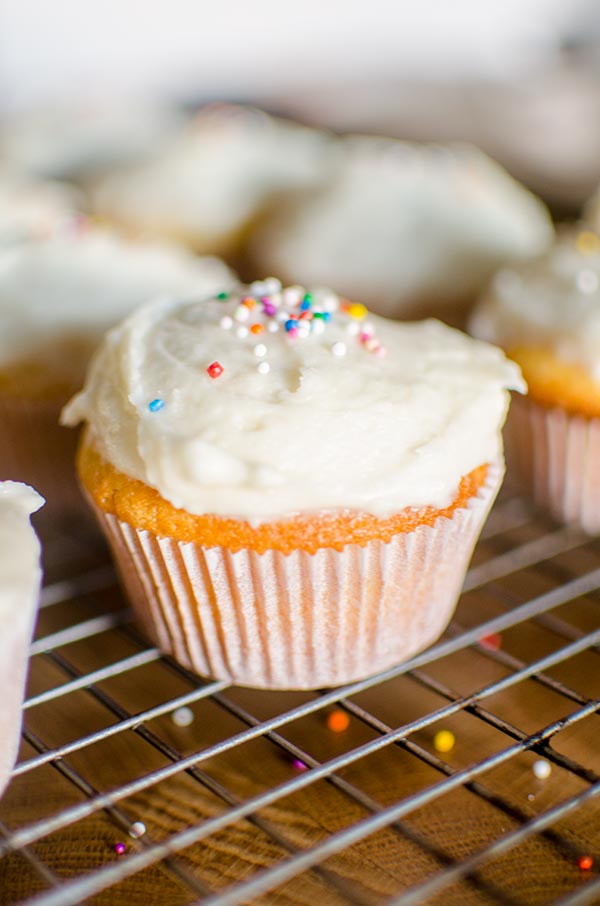 Cupcakes are all the rage, and honestly, they are one of those desserts you need to have in your repertoire. This is an incredibly easy vanilla cupcake recipe, so much so that these might just be the easiest homemade cupcakes in the world! Quite a big statement, I know. But if you're looking to make cupcakes at home, look no further this is the recipe for you.
I'm definitely more of a cook than I am a baker, so when I do bake, I try and keep things relatively simple. Apple crisps and peanut butter oatmeal chocolate cookies are kind of my go-to treats. I hate to admit it, but for years I always relied on cake mixes to make cupcakes–I know, I know. It's ok.
I first shared this recipe for homemade cupcakes back in 2010, and it was the first time I ever made homemade cupcakes from scratch. Since then, I've made this recipe countless times, and have made many tweaks and changes. You'll need to use a hand mixer or stand mixer for this recipe because it uses the reverse creaming method. 

What is the reverse creaming method for making cupcakes?
In the reverse-creaming method, the dry ingredients and the sugar are mixed together first, as opposed to creaming the butter and sugar together. Then the fats and a portion of the liquids are mixed into the dry ingredients followed by the remaining liquids. You could use a standmixer if you have one, but I don't have enough space in my small kitchen so I like to use this electric handmixer for these.
These are seriously the easiest cupcakes in the world, and if you, like me, are used to using the mixes, seriously try this, you'll never go back. With a few simple ingredients that you most definitely have in your pantry, whipping up a batch of homemade vanilla cupcakes is a no-brainer.
What keeps cupcakes moist?
Baking fluffy, moist cupcakes comes from creating air bubbles in the batter that expand in the oven. Avoid over-mixing (this collapses the bubbles) and over-baking. When you're making cupcakes, mix on low speeds and stop just as the ingredients blend together.
Vanilla is a fool-proof favourite that are perfect for any party or birthday, but if you're looking to make another variety of cupcakes, you can also try my easy banana cupcakes which use overripe bananas for a touch of sweetness.
This really is the best cupcake recipe out there because it never fails! I like to make mine with a really simple vanilla buttercream frosting, but you could definitely do a delicious chocolate frosting as well if that's more your style.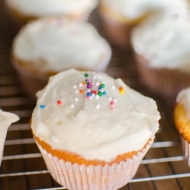 The easiest, homemade cupcakes in the world!
The easiest homemade cupcakes in the world are fluffy and moist with simple vanilla frosting. 
Pin
Print
Ingredients
½

cup

unsalted butter

,

at room temperature, cut into cubes

1 ¾

cups

all-purpose flour

1

cup

granulated sugar

2 ½

teaspoons

baking powder

¼

teaspoon

salt

1

large egg

1

cup

milk

1

tsp

vanilla extract
For vanilla frosting:
4

tbsp

unsalted butter

,

at room temperature

2

cups

icing sugar

2

tbsp

milk

½

tsp

vanilla extract
Instructions
Preheat the oven to 375F.

Place the butter in a large mixing bowl or the bowl of a stand mixer and sift the flour, sugar, baking powder and salt over top. Blend slowly together over medium-low speed until mixture resembles pebbles.

Add in ½ cup of milk and the egg, mix on medium until the flour mixture is completely moistened and the egg has been incorporated.

Add the remaining milk and vanilla and mix until just combined--it's ok if there are some lumps in the batter.

Place the paper liners in your muffin tin and fill the cupcake liners about ¾ of the way full.

Bake in the centre of the oven for 18-20 minutes or until a toothpick inserted into the middle comes out clean. Remove from oven and allow to cool before frosting.
To make vanilla frosting:
In a small bowl, beat together butter, sugar, milk and vanilla until light and fluffy.
Did you try this recipe?
Leave a comment + rating and let me know what you think!
Recipe adapted from Cupcake Ideas Book
Let me warn you, give these away to friends because it's very easy to get carried away, and soon enough you'll be surrounded by cupcake liners and no more homemade cupcakes!