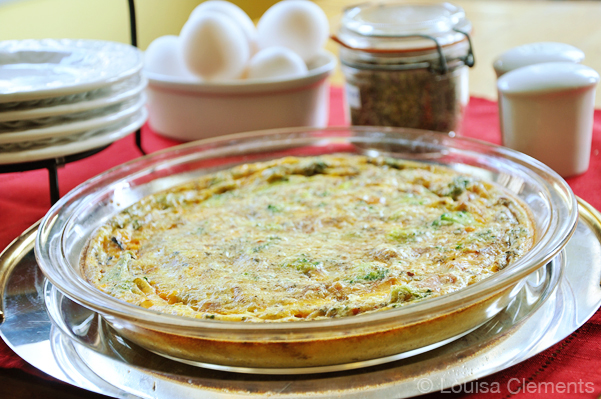 Can you believe that it's been a month since my last Secret Recipe Club post? Wow. Time sure flies! I was on the hunt for something festive for December's reveal, and I realized that I didn't want to go for cookies or something sweet. Why? Well because brunch is one of my favourite meals. There is nothing better than a nice, slow and relaxing morning ending with a comforting brunch. Quiche just screams brunch to me, and this quiche is not your traditional quiche. For starters, it's crustless, AKA it takes about 30 minutes to make. It's also packed with healthy vegetables such as broccoli and instead of regular potatoes I decided to opt for sweet potatoes.
You may be wondering where I got my inspiration for this crustless quiche? This month I was assigned to The Tasty Cheapskate which is run by the lovely Jean who makes frugal, albeit simple and delicious meals. I was so pumped when I got my assignment for December because her blog is packed with recipes. I had so many to choose from and I've already made a couple like her Chocolate Gingerbread which was so decadent and perfect for the holidays! I love that she makes healthy, wholesome recipes with some sweet indulgences on the side, she also tells you how much each recipe costs to make. For a college student like me, her blog is right up my alley!
Crustless Quiche (serves 4)
Recipe inspired by The Tasty Cheapskate
Ingredients
4 slices of bacon
½ cup diced sweet potato
½ cup chopped broccoli florets
½ onion, shredded
6 eggs
3 tbsp milk
¼ tsp salt
½ tsp pepper
¼ tsp chili flakes
½ cup cheddar cheese
Directions
Preheat oven to 350.
Cook bacon in a pan, remove from pan (leaving fat) and crumble with hands.
If needed add olive oil to coat the pan. Add the sweet potatoes and cook for 5-7 minutes over medium heat. Add in the broccoli and cook for another 5 minutes. Add in onion, and cook for another 3-5 minutes.
Meanwhile, in a large bowl whisk eggs, milk, salt, pepper, chili flakes and cheddar cheese. Add in the cooked vegetables and pour into a 9-inch quiche dish.
Bake in the oven for 15-20 minutes or until fully cooked and eggs have set.
I hope you enjoy this month's SRC post! Happy holidays.
– Lou