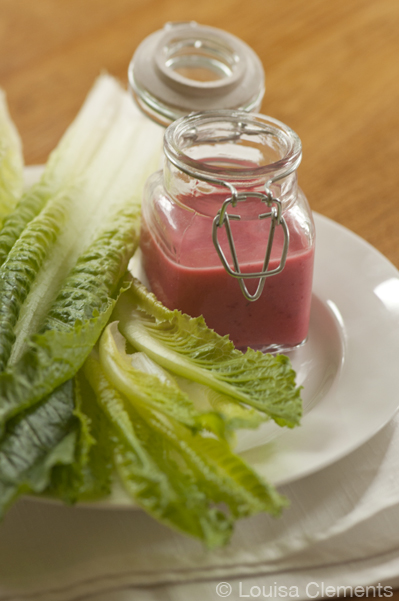 Happy New Year to everyone! I hope that you all enjoyed your Holidays and that 2013 has gotten off to a great start. My year started off really well, by the 2nd, I had already crossed off one of my goals! I have a feeling 2013 is going to be pretty great.
I'm sure many of you are starting off the New Year with a resolution to eat healthier. I don't really make resolutions for the New Year, but I do set a bunch of smaller goals I plan to achieve in the coming year.  One of those goals is to eat more vegetables in 2013 and this Cranberry Vinaigrette is a great way to enjoy veggies. Plus, I don't know about you, but I have a ton of leftover, sad looking cranberries in my fridge and nothing to do with them.
I had a lovely break with friends and family, here's a picture of my sister (on the left with Sophie) and I in front of our Christmas tree.
I'm a big fan of homemade salad dressings. They are really simple to make and a lot better for you than store bought. I've shared a bunch of salad dressings, so be sure to check them out here.
Cranberry Vinaigrette (makes about ⅔ of a cup)
Recipe by Lou
Ingredients
½ cup french cranberries, halved
2 tbsp lemon juice
1 tbsp Dijon mustard
2 tbsp honey
¼ tsp dried thyme
⅓ cup olive oil
Directions
In a food processor or blender, process the cranberries with the lemon juice, Dijon mustard honey and thyme. In a slow but steady stream, blend in olive oil. Continue blending until it has reached your desired consistency.
Keep in refrigerator, but allow to come to room temperature before serving.
– Lou