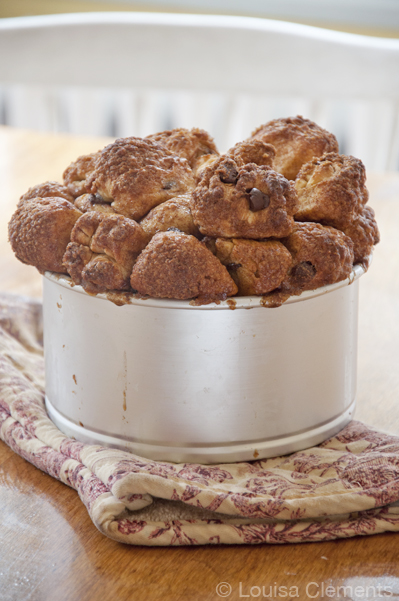 I have mentioned my goals for 2013 before, and one of those is to use my bread machine more often. It makes baking bread so easy. Over the past couple of years I've seen recipes all over the internet for monkey bread and pull apart bread, filled with all types of seasonings; cinnamon and sugar, Parmesan and garlic, the list goes on and on. I first made this Chocolate Chip Monkey Bread last year and have continued to make it pretty consistently since then, but like a lot of favourite recipes, I never thought to share it on here. The dough for Chocolate Chip Monkey Bread is made in the bread machine, but it is rolled out by hand and baked in the oven. I'm sure it could also be made by hand, or with a stand mixer and a dough hook, but I've never tried myself.
Chocolate Chip Monkey Bread
Recipe by Lou
Ingredients
½ cup milk
¼ cup water
3 tbsp butter, melted
1 tsp vanilla extract
3 cups all purpose flour
¼ cup granulate sugar
1 ½ tsp yeast
½ tsp salt
¼ tsp cinnamon
¼ tsp instant coffee or espresso
¾ cup chocolate chips
For Glaze
6 tbsp melted butter
1 cup brown sugar
2 tsp cinnamon
Directions
In the bowl of a bread machine, layer ingredients as per directions. For my bread machine, liquids go first followed by dry ingredients. Set on dough setting.
Meanwhile, melt butter and combine brown sugar and cinnamon in a large bowl.
Once dough is done. Roll out into a rectangle, roughly 15″ by 12″. Add the chocolate chips on top of the dough and and fold it over as if you were folding a shirt or a sweater.
Next, knead it a few times. Allow the dough to rest for 5 minutes. Roll out again into a rectangle and using a pairing knife, cut into pieces.
Grease a bundt pan or a small cake pan with a neutral oil or butter.
Next, roll the pieces of dough into balls. Dip the balls in melted butter and roll in brown sugar and cinnamon. Pack into pan. Repeat with remaining dough.
Bake at 350 for 45-50 minutes.
If you have a little time this week, this bread is a huge crowd pleaser!
– Lou