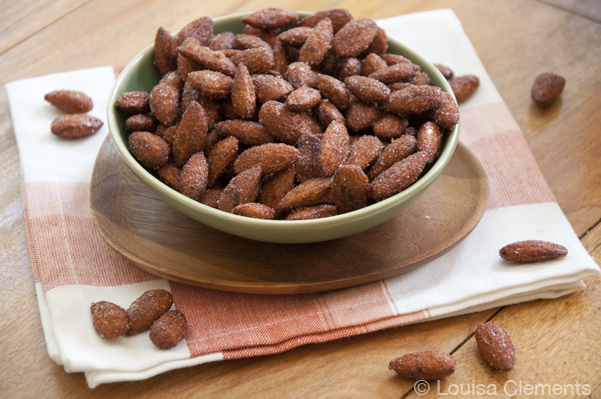 I've seen roasted nuts – almonds, peanuts and walnuts everywhere, but I never had the urge to try them until recently. The real reason I made these Chipotle Roasted Almonds is for a new recipe coming your way next week. Here's a hint: it has to do with ice cream and it is to die for. Back to the roasted nuts, what's so special about them? Here's what's special – they are so good and so addicting. The perfect blend of sweet and salty with a slight smoky and spicy aftertaste that makes your taste buds sing. I can see many variations of roasted nuts becoming a staple snack in my house. I always thought that I loved almonds but this takes our relationship to a whole new level. What's your relationship like with almonds? I can almost guarantee that after trying these, you might fall in love all over again.
These make a great protein packed snack or a fabulous appetizer to have at your next gathering.
Chipotle Spice Roasted Almonds (makes 2 cups)
Recipe by Lou
Ingredients
2 cups raw almonds
3 tbsp honey
3 tbsp water
⅛ cup sugar
½ tsp sea salt
½ tsp chipotle chili powder
Directions
Preheat oven to 325. Line a baking sheet with parchment paper.
In a small bowl, combine sugar, salt and chipotle chili powder, set aside.
In a medium pot bring honey and water to a boil.
Add almonds and stir to coat in honey/water mixture. Continue boiling and stirring until most of the liquid has been absorbed.
In one layer, pour almonds onto the prepared baking sheet.
Roast for 30 minutes – stirring almonds every 10 minutes to ensure even cooking.
Once fully roasted, pour almonds into a large bowl and sprinkle with sugar mixture. Tossing to coat.
Allow nuts to cool, tossing every little while to ensure that they do not stick together. Store in an airtight container.
I hope you enjoy these Chipotle Roasted Almonds as much as I do.
– Lou