The nutty flavour of brown butter pairs perfectly with the sweet, spring snow peas. Try this recipe for brown buttered snow peas for an easy 2-ingredient side dish.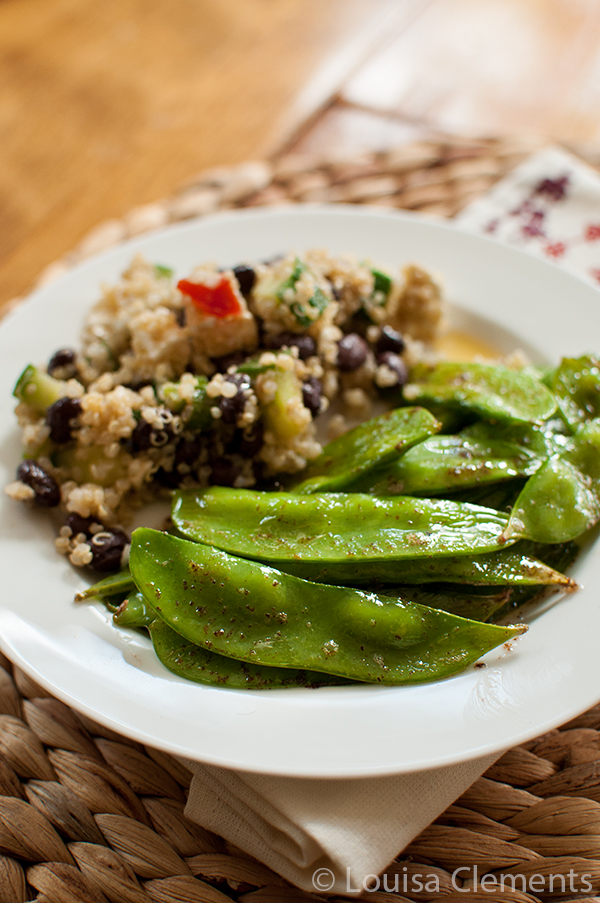 Snow peas are the perfect side dish for these warm spring days and for this recipe, I've paired them with brown butter for the perfect comforting side dish. This is the kind of dish that is great for this transition period from winter to spring when the days may be warm but the evenings are cold. I find this weather a little challenging for cooking because I'm ready to break out the salad and no-cook dinners, but the weather is still screaming for quick soups.
For this recipe (which is ridiculously easy with only two ingredients) I wanted to combine the sweetness of snow peas with the earthy flavours of brown butter – kind of the best of winter (brown butter) and spring (snow peas). Brown butter has been everywhere recently, but it's really nothing complicated at all. So what is brown butter? It's basically butter that has been cooked long enough to toast the milk solids in the butter. This is what gives it that flecked, brown colour and nutty flavour.
When I was working on this recipe, I tried it a few different ways, with garlic and onion, with just garlic, with chili flakes and the like, but this simple version won out. Sometimes it's important for those simple flavours to really shine through. And if you haven't noticed, I've been conscious of simplifying things over the past year or so (remember when I talked about it last march?) and this is one of those "simplify" your life side dishes.
(A favourite moment and a favourite Walt Whitman quote)
I've been really focused on taking in moments over the past six months or so and it's made such a difference in my life. I love capturing, sharing and processing these moments on Instagram. I find that life moves about a mile a minute and because of that, it's so easy to just let things happen and pass by without really feeling or experiencing them. It's definitely one of the things that I struggle with because, sometimes, being completely present is almost the hardest place to be, is it not?
This past week has been a mixture of moments. Some wonderful highs, like starting a new internship and a few laughter-filled nights, and then of course, some not so peachy moments like hearing of the struggles of friends, or my sister moving to Germany for the summer, or having one of those difficult conversations you'd rather not have. But there is always going to be a mixture of moments, both messy and beautiful, chaotic and calm because this life truly is a beautiful mess. But you know something that I realized this week? Despite all of that, right now, I'm deeply in love with it, this life, my life, in all of its extraordinary and mundaneness. And I hope you are too.
Brown buttered snow peas recipe breakdown
A simple side dish that just requires browning butter for a nutty and flavoured packed side.

Yields 4
Brown Buttered Snow Peas
A simple recipe made with two ingredients.
10 minPrep Time
9 minCook Time
19 minTotal Time
Ingredients
3 tbsp butter
6 oz/170g snow peas, strings removed
Instructions
In a large pan, over medium-low heat, melt butter.
Stirring occasionally, brown butter for 5-7 minutes. You'll start to see little brown flecks in the butter, this is good.
Add snow peas, coat in browned butter and cook for 1-2 minutes.
Notes
Recipe by Louisa Clements
7.8.1.2
180
https://www.livinglou.com/brown-buttered-snow-peas/
Keep things simple tonight and make this two-ingredient brown buttered snow peas recipe.