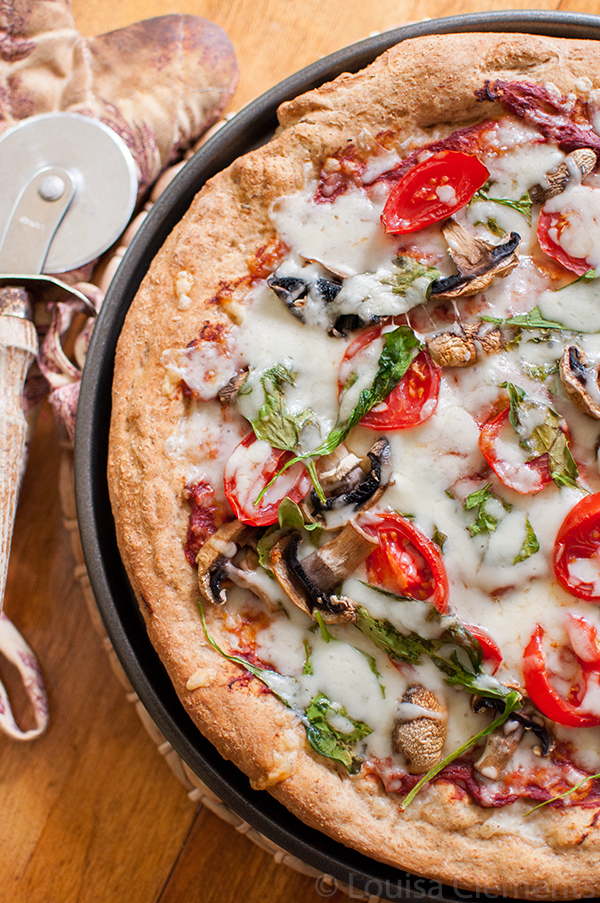 You may have noticed a slight addiction to homemade pizza on my Instagram feed because I lived off of pizza for weeks in July. I'm not kidding, I ate pizza for dinner for what seemed two weeks straight. Not that I was complaining, can you go wrong with a thin crust, perfect homemade pizza sauce and gooey mozzarella cheese? No, I don't think so either. What are your favourite pizza toppings? I often just use up whatever leftovers I have in the fridge on a friday night, but some of my favourite toppings are arugula or spinach, mushrooms and pepperoni. If I'm feeling fancy I might even add a smoked cheese or prosciutto.
I was on a mission to perfect this recipe for whole wheat pizza dough for a while, hence the eating of pizza for a couple of weeks straight. Although, I think my friends may have gotten annoyed with my endless "PIZZA!!!!" texts. Which I didn't think was possible, but apparently it is. The good news is that I've realized you can put pretty much any topping on a pizza and it will be delicious. Other than my aforementioned favourites, I do like to throw in a little broccoli or tomato every now and then.
So this pizza dough recipe is specifically for those of you who use a bread machine because I love my bread machine and I make all of my pizza dough in there. It's so simple, you just turn it on and boom, an hour and a half later you have dough ready to go. I've had a bread machine for a couple of years, and I've vowed to use it more and more every single year. I think this pizza dough will help me to achieve that goal in using my bread machine more often.
Do you prefer thin or thick crust pizza? I'm definitely more on the thin crust side so I divide this dough in half, but if you wanted an extra-thin crust, you could definitely divide this dough into three portions. A trick I've learned for rolling out pizza dough is to let it rest. If it starts to bounce back on you, let it sit for five minutes before going back and rolling it out again.
Whole wheat bread machine pizza dough recipe breakdown
Put your bread machine to good use and make this recipe for crispy and thin crust whole wheat pizza dough.
Bread Machine Whole Wheat Pizza Dough
20 minCook Time
5 based on 2 review(s)
Ingredients
1 ½ cups water
1 tbsp olive oil
2 ½ cups whole wheat flour
1 cup all purpose flour
1 tbsp granulated sugar
1 tbsp bread machine yeast
1 tsp salt
1 tsp dried oregano
Instructions
In the bowl of a bread machine, layer ingredients from wet to dry.
Turn on dough setting.
Once dough is done, divide it in half.
Shape into a round disk and bake at 425 for 10 minutes.
Remove from oven, add pizza sauce and toppings, cook for another 10 minutes.
Notes
Recipe by Louisa Clements
7.8.1.2
82
https://www.livinglou.com/bread-machine-whole-wheat-pizza-dough/
If you have a bread machine, you must give this bread machine whole wheat pizza dough a try.