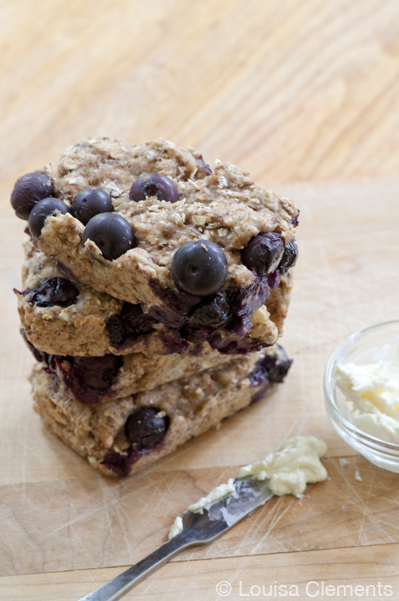 I love blueberries, so when I was assigned Betcha Can't Eat Just One for this month's Secret Recipe Club I was ecstatic to find this recipe for Blueberry Breakfast Bars. I mean come on, how good do they sound? The best part about the recipe is how healthy and tasty they are. I loved the fact that they weren't too sweet, because I don't know about you, but I can't stomach sweet treats in the morning.
Other than finding the delicious recipe, I was even more excited when I found out that Katie is a fellow Canadian food blogger! Blogging from the West Coast of Vancouver Island, which I'm sure is one of the most beautiful places in Canada. Many of her recipes, including this one for Blueberry Breakfast Bars are dairy and egg free, which meant that the fact that I had run out of eggs did not impact the making of the recipe. Yay!
I made a few changes to the recipe based on what ingredients I had on hand. The original recipe called for rolled oats and crushed bran cereal, but I just used quick oats and a little more whole wheat flour instead. I also only used baking powder and added in a touch more vanilla because I am a vanilla addict.
Blueberry Breakfast Bars (makes 8 bars)
Recipe adapted from: Betcha Can't Eat Just One
Ingredients
1 cup whole wheat flour
¾ cup quick oats
1 tsp baking powder
½ tsp cinnamon
2 tbsp flaxseed meal
¼ cup honey
¼ cup almond milk
1 ½ tsp vanilla extract
1 tbsp canola oil
1 ripe banana, mashed
1 cup fresh blueberries
Directions
Preheat oven to 350 degrees and line an 8″ pan with parchment paper.
In a large bowl, combine dry ingredients.
In another bowl combine wet ingredients.
Add the dry ingredients to the wet ingredients and lightly mix.
Fold in the berries.
Press into the pan and bake for 15-20 minutes or until a toothpick inserted into the bars comes out clean.
Allow to cool and cut into bars.
Katie put a nice icing on her blueberry breakfast bars, but I found they were just as good with a dollop of cream cheese.
– Lou