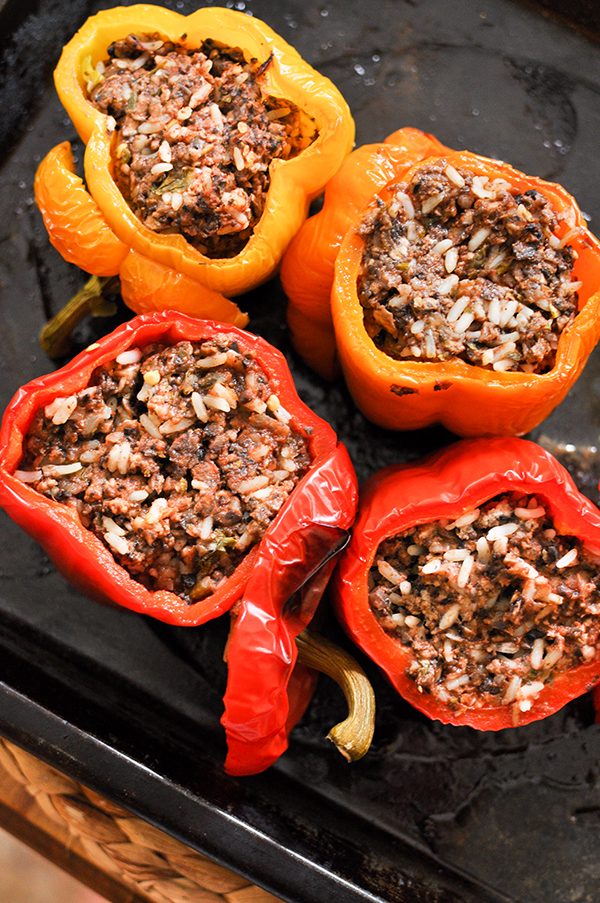 If you've been reading for a while, you'll know that I'm really into stuffed peppers. I just love that it's a meal in a flavourful, vegetable bowl of sorts. As the peppers cook, they infuse the filling with a hint of sweet bell pepper flavour. Loaded with beef, rice and mushrooms these stuffed peppers are simple to put together. I focused on herbs for the aromatics in this recipe, you'll find both parsley and basil in these stuffed peppers. I also added some hot sauce in here, because I like the little hint of a kick that it gives these peppers, but you can leave it out if you want. I'm also really into eating speculoos cookie butter with a spoon, anything with white and navy stripes and every single movie Wes Anderson has ever made. Oh, and Taylor Swift's new song "Shake it Off" (no shame). But we can talk about those another time (or on Twitter right now). I'm also really into trying new things, like blending together beef and mushrooms in these beef and mushroom stuffed peppers.
I took one of my favourite dishes and updated it to create this more affordable and healthy option using Blendability. What's that you ask?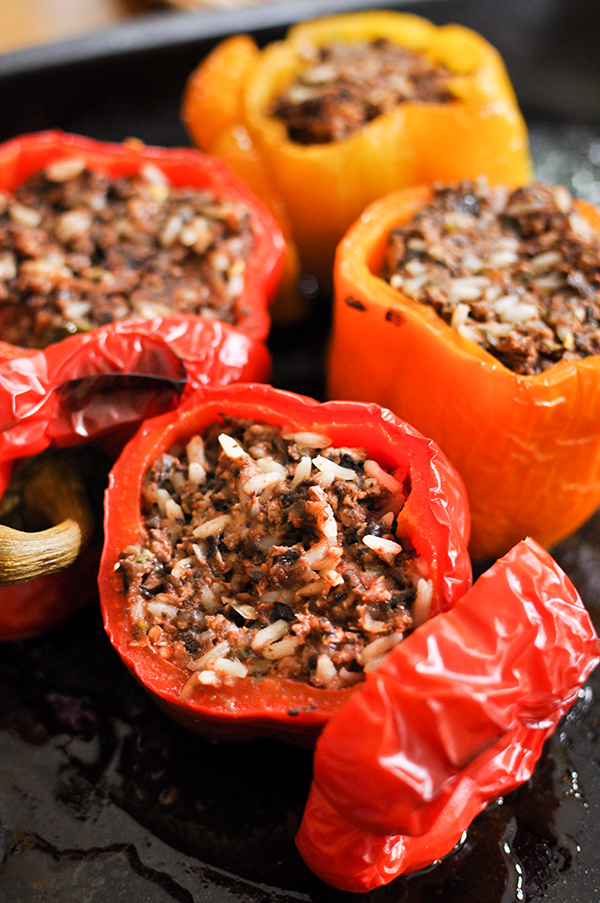 Blendability. It has quite the ring to it, doesn't it? My friends over at Mushrooms Canada and Beef Ontario have teamed up to show you how to add another serving of vegetables to your day, add volume to your meals and the best part, extend portions (I like to think of extending portions as saving a little money). Which are all pretty great things to do with your food, if I do say so myself. I like to think that I can be pretty creative in the kitchen, but I would never have thought to blend beef and mushrooms together. But it's completely genius because you don't even notice. The way the two ingredients work together to create something that just seems like ground beef is incredible. I mean you can't go wrong by lightening up meals, adding more vitamins to your diet and saving money all at the same time, can you? And even if you are a complete mushroom hater (in which case, I'm sorry but we can't be friends), you would have no idea that these have mushrooms in them. There are a ton of other recipes on their site (lettuce wraps, anyone?), but I suggest you give these stuffed peppers a try first. They are kind of perfect for fall, and I am kind of biased.
If you're looking for some more mushroom or beef recipes, I've got you covered. You can't go wrong with classic roasted mushrooms and beef and mushroom meatball sliders.
Beef and mushroom stuffed peppers recipe breakdown
Combine beef and mushrooms and stuff them into sweet bell peppers, with aromatic herbs like parsley and basil this simple, affordable and healthy recipe will be a family favourite.
Yields 4 servings
Beef & Mushroom Stuffed Peppers
10 minPrep Time
45 minCook Time
4 based on 1 review(s)
Ingredients
Instructions
Preheat oven to 375.
In a food processor, process mushrooms, onion, parsley, garlic, basil and salt.
Mix mushroom mixture with ground beef, rice, crushed tomatoes and hot sauce.
Stuff peppers with the beef and mushroom mixture. Cover peppers with the tops.
Cook for 35-45 minutes or until beef and rice is fully cooked.
Notes
Recipe by Louisa Clements
7.8.1.2
80
https://www.livinglou.com/beef-mushroom-stuffed-peppers/
Disclosure: I was compensated to create this beef and mushroom stuffed peppers recipe. Thank you for supporting Living Lou, I really appreciate it!