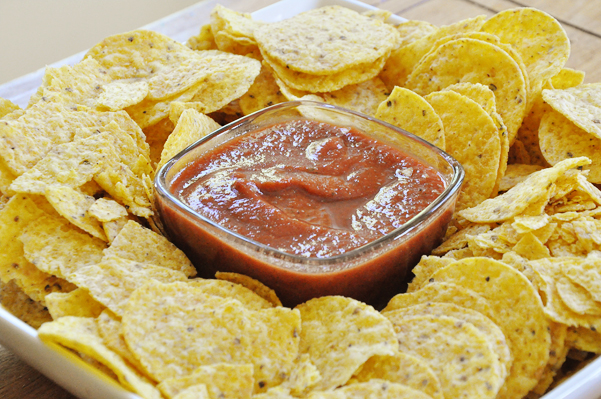 Right now I'm watching The Food Network, eating chicken and writing about my favourite homemade salsa – it's all food, all the time over here at Living Lou. I guess you could say that I'm slightly obsessed. As you know by now, I'm a big fan of making food from scratch, and salsa is no exception. What I like the most about making it myself is that I can control how spicy, salty, and cilantro-y (definitely not a word) my salsa is. There are days when I feel like eating a mouthful of fresh cilantro flavor, and other times when I feel like eating a salsa so spicy that I need a big glass of milk to soothe my mouth.
This recipe that I'm sharing today is a basic salsa recipe that can be tweaked to your liking, if you like it spicy, go ahead and add in some more jalapeno, if you love cilantro then add in another handful, don't be afraid to make a recipe your own. Salsa is extremely easy to prepare, and when I say easy I mean that you literally throw everything into a blender and blend. I don't really like chunky salsa, but if you like yours chunky, you can blend it as much or little as you want.
Basic Salsa (makes 10 servings)
Recipe Adapted from: The Pioneer Woman

Ingredients
2 ½ cups crushed tomatoes
¼ large onion, roughly chopped
1 clove garlic, roughly chopped
¼ tsp sugar
⅛ tsp salt
¼ tsp cumin
½ jalapeno, roughly chopped
⅓ cup fresh cilantro
½ whole lime juice
1 18 oz can of diced spicy red pepper, tomato and onion
Directions
Place all ingredients except can of diced spicy red pepper in a blender. Blend until desired consistency. Add in the can of diced spicy red pepper and serve.
This recipe makes a lot of salsa, and when you get tired of eating it with chips, I have a few recipes coming up this week where this salsa can be used.
– Lou