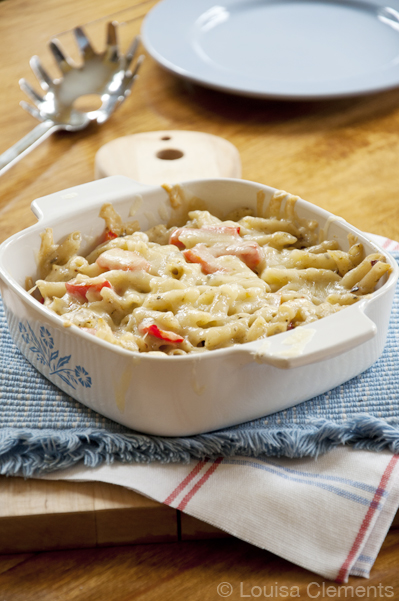 Is there anything better than Baked Pasta? I'm always stuck looking for ways to use all those boring, skinless, boneless chicken breasts in my fridge. So, how would you feel if I told you this Baked Pesto Pasta is a recipe that uses those chicken breasts? Are you feeling great yet? Me too.
Can we talk about how it is already November. I think I say this at the beginning of every month, but for real – why does time seem to go so fast these days? I remember being a kid and hearing adults say how fast time goes, but to me, 15 minutes seemed like an eternity. I guess it's because everyone is so busy that we just don't make the time to sit back and think "Wow, that was a great day!". It's funny because I always ask the kids I babysit what was the best thing that happened that day, but I never ask myself.
This Baked Pesto Pasta is example of one of those great things we tend to forget. While it wasn't the best thing that happened to me that day, there is something incredible about creating a simple recipe that works so perfectly.
Baked Pesto Pasta (serves 4-6)
Recipe by Lou
Ingredients
1 lb Penne pasta
2 cups diced poached chicken breasts
1 tbsp olive oil
4 tbsp pesto, divided
2 red peppers, chopped
¼ tsp hot chile flakes
3 cups shredded mozzarella
½ cup grated Parmesan cheese
Directions
Preheat oven to 350.
In a large pot, bring water to a boil and cook pasta until al dente. Once cooked, drain and stir in 2 tbsp of pesto.
Meanwhile, in a pan heat oil over medium heat. Add remaining 2 tbsp of pesto, red peppers and hot chile flakes. Cook for 5 minutes.
Next, add red pepper mixture to pasta. Stir in 1 cup of mozzarella and parmesan cheese. Pour into casserole dish, cover with remaining 2 cups of mozzarella. Bake for 20 minutes.
Hope you enjoy this Baked Pesto Pasta as much as my family did.
– Lou