Combine bacon avocados and eggs for a delicious and gourmet take on egg salad. This recipe for bacon avocado egg salad is so easy and full of flavour.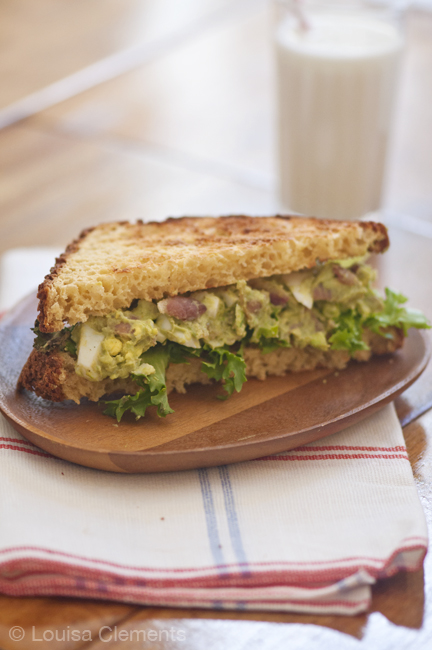 Ready for an amazing twist on egg salad? Let me introduce you to this recipe for bacon avocado egg salad. I'd like to introduce the holy trinity of breakfast (Bacon, avocado and egg) to the meal we call lunch. I've been somewhat embarrassed about my love for egg salad, but I just love it. It's such an easy dish to make for lunch, just boil some eggs and throw in whatever else you have in the fridge.
I always like to add a tiny bit of mayonnaise, Dijon mustard (the bite in mustard helps to cut through the mayonnaise) and fresh herbs (thyme is delicious). For this recipe, I've jazzed it up with a few additional ingredients, specifically avocados, bacon and green onions. This takes boring egg salad to gourmet territory, well if you can ever consider egg salad gourmet.
Sometimes lunch is actually breakfast, sometimes lunch doesn't even happen until 4pm and we know all to well that most of the time, my lunch happens while driving – but whenever lunch does happen, if this bacon avocado egg salad is involved it'll be a good one. Although, I must admit that egg salad isn't really the ideal sandwich to eat in the car.
So, now that Easter has come and gone, how many people have a dozen of creatively decorated hard boiled eggs in the refrigerator right now? How many of you don't even like eating hard boiled eggs? For me, it's a texture thing with the yolks, but that leaves the question – what are you going to do with them? Waste them? No! Egg salad is obviously the answer, but not your regular egg salad, something a little special.
This all started when I introduced my dad to my favourite breakfast sandwich the other day – the smashed avocado, bacon and egg open faced sandwich that I had the brainwave to put the flavors into egg salad. Since I've been meaning to make egg salad sandwiches for a while for the blog, I figured this was the perfect time to do it. I just served this egg salad on a bed of romaine lettuce, but I think that it would be even better on peppery arugula, which is my favourite kind of greens for adding to sandwiches.
Now you may notice that because of the avocado, the egg salad is actually on the green side, which is pretty fun but maybe not the most kid-friendly egg salad out there. But it does kind of remind me of "Green Eggs and Ham", don't you think? Avocado = green, eggs = well, eggs and bacon = ham. Pretty genius, don't you think? That said, if you're looking for more of a classic egg salad recipe, I shared a delicious egg salad for one with Carly over on The College Prepster. That recipe is more of your every day kind of egg salad, the makes the perfect amount for one serving.
Yields 4-6 servings
Bacon Avocado Egg Salad Sandwich
Ingredients
6 hard boiled eggs, chopped
6 rashers of bacon, cooked and chopped
2 avocados, mashed
2 green onions, sliced
1 tbsp mayonnaise
1 tbsp lemon juice
1 tsp black pepper
½ tsp Dijon mustard
⅛ tsp cayenne pepper
Instructions
To hard boil the eggs, cover with cold water. Bring to a boil, reduce heat to a simmer and simmer for 12-15 minutes. Once finished cooking, remove from hot water and cover with cold water to stop cooking.
Mix together chopped hard boiled eggs, bacon, avocados, green onions, lemon juice, mayonnaise, black pepper, Dijon mustard and cayenne pepper in a bowl.
Serve on your favourite bread, and store in the fridge in an airtight container.
Notes
Recipe by Louisa Clements
7.8.1.2
24
https://www.livinglou.com/bacon-avocado-egg-salad-sandwich/
This bacon avocado egg salad really is a revelation and I highly recommend giving it a try this week.