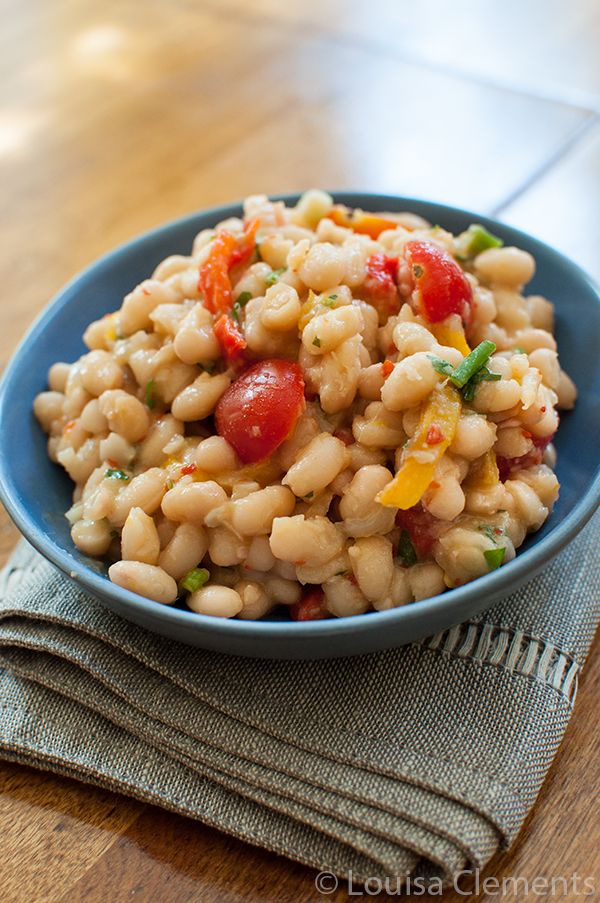 Most of the time I spend in the kitchen is spent creating new recipes for all of you, but every now and then it's nice to get into the kitchen, turn up some music (I'm on a big Tegan and Sara kick after last week's Grey's Anatomy finale) and mindlessly follow a recipe. This Argentine White Bean Salad comes from the book Vegan Beans from Around the World: 100 Adventurous Recipes for the Most Delicious, Nutritious, and Flavorful Bean Dishes Ever
 by Kelsey Kinser. It's not news that I've been trying to incorporate a few more vegetarian and vegan meals into my diet, so when I was asked if I wanted to review this book, it was the perfect fit. 

via my Instagram
 This book is packed with recipes, and they are good, delicious sounding recipes. African Curried Black-Eyed Pea and Coconut Soup anyone? What about Valencian Minted Fava Salad or Curried Dal with Cauliflower? The book doesn't have any pictures, but for some reason, I really don't miss them. I think it's because the recipes all sound so amazing that I don't need a photo to convince me to try them. I'm often cautious about vegan cookbooks because I find that a lot of the time they use ingredients that I don't readily have available in my kitchen or at my grocery store. This book doesn't really use any of those unusual ingredients and that's why I love it. I can see myself making a ton of recipes out of here over the summer. I highly recommend this book if you're looking to cook more with beans!
This recipe for Argentine White Bean Salad has such a great balance of flavours, it's smoky, spicy and the roasted red and yellow peppers add a nice sweet touch. The fresh parsley and green onions give it a nice crunch and some brightness. This is the sort of salad I would bring to a potluck or serve to company, it would also make a great lunch to take to work.
Yields Serves 4
Argentine White Bean Salad
Ingredients
1 red pepper
1 yellow pepper
2 cups dried white beans, soaked overnight and then rinsed and drained
1 teaspoon liquid smoke
1 yellow onion, quartered
2 cloves garlic, minced
2 teaspoons red pepper flakes (or aji molido)
⅛ teaspoon salt (kosher salt preferred)
2 tablespoons sherry vinegar
1 tablespoon Dijon mustard
1 tablespoon olive oil
4 green onions, chopped
6 cherry tomatoes, halved
store-bought or homemade seitan chorizo sausages, cooked
¼ cup parsley, chopped
Notes
Recipe published with permission from Ulysses Press.
7.8.1.2
69
https://www.livinglou.com/argentine-white-bean-salad/
Disclosure: I was sent a copy of Vegan Beans From Around the World: Adventurous Recipes for the Most Delicious, Nutritious and Flavorful Bean Dishes Ever by Kelsey Kinser to review by Ulysses Press. The decision to write about this book is completely my own. I was not compensated in any way for writing this post. This post contains affiliate links, thank you for supporting Living Lou!