Crispy chickpeas flavoured with tandoori spice made in the Airfryer.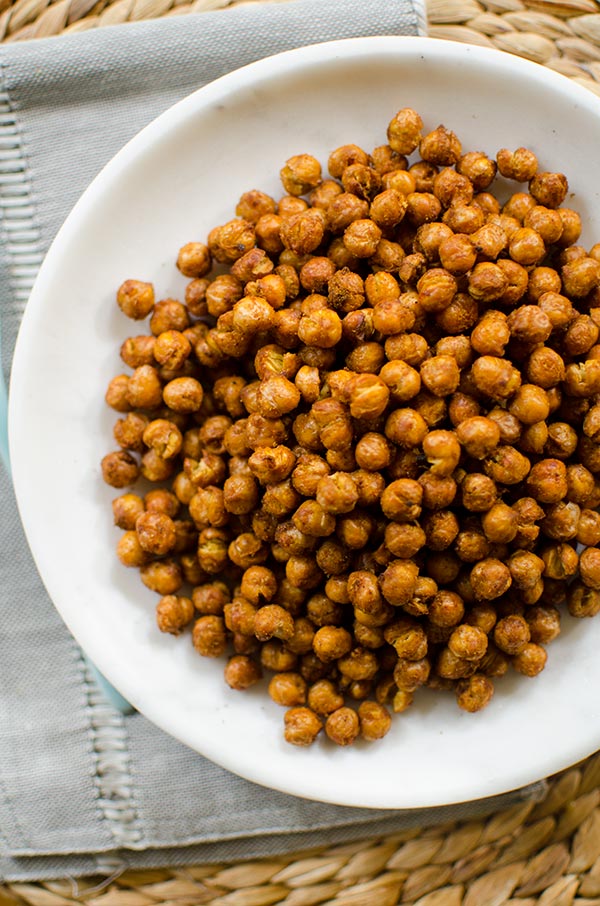 When I'm working on new posts, I always ask myself 'What solution can I offer you?'. I feel like if I can help you solve one problem, no matter how small it may be, then I've done my job. Today I've got your solution to crispy roasted chickpeas. Have you ever tried to make this healthy snack in the oven? It's a protein-packed and healthier solution to those chip cravings that tend to hit in the evenings. There are hundreds of recipes online for crunchy roasted chickpeas that are made in the oven, but every time I've tried to roast chickpeas in the oven, it has resulted in a major failure. I feel like if I've had issues with roasting chickpeas then you must have experienced the same thing. First of all, they take forever, secondly the
amount you get is pitiful and finally, the spices tend to burn. So, you either end up with burnt, bitter spices or you toss them in raw spices after they are cooked which isn't much better. The solution? Airfry them!
I don't know why I never thought to make air-fried chickpeas. It's like a light bulb went off in my head a couple of weeks ago when I decided to toss them in one tablespoon of olive oil, and cook them in my Philips Airfryer. In just 10 minutes (as opposed to the 30-40 it can take to roast chickpeas in the oven), I had perfectly crispy chickpeas for the ultimate, healthy and homemade snack or addition to a salad. There were no burnt chickpeas because the Airfryer's technology cooks everything so evenly.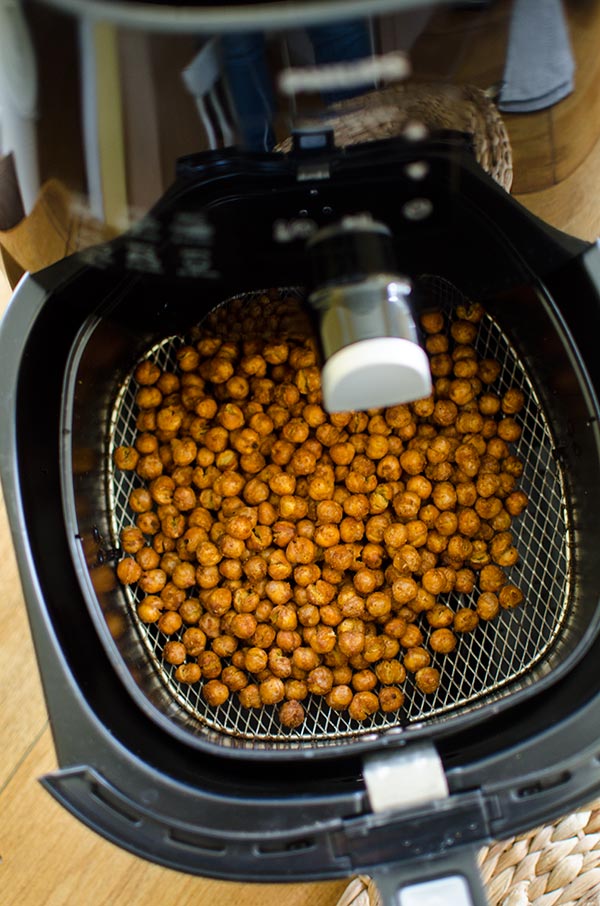 Since I've been working pretty crazy hours for the past couple of months, I've really started to rely on my Airfryer to help me cook quick meals. Whether it's cauliflower or beets to add to a salad, or a couple of chicken thighs or breasts while I throw together a quick salad, I feel like it's helping me keep to my healthy lifestyle and avoid spending tons of money on takeout! A win-win situation for sure. I tend to walk in the door with some sort of dinner plan already in mind and then start cooking, it heats up really quickly so I opt for dishes that require minimal prep. I've talked about this before on Instagram, but for me, cooking is the be best way to turn my brain off and reset for the evening.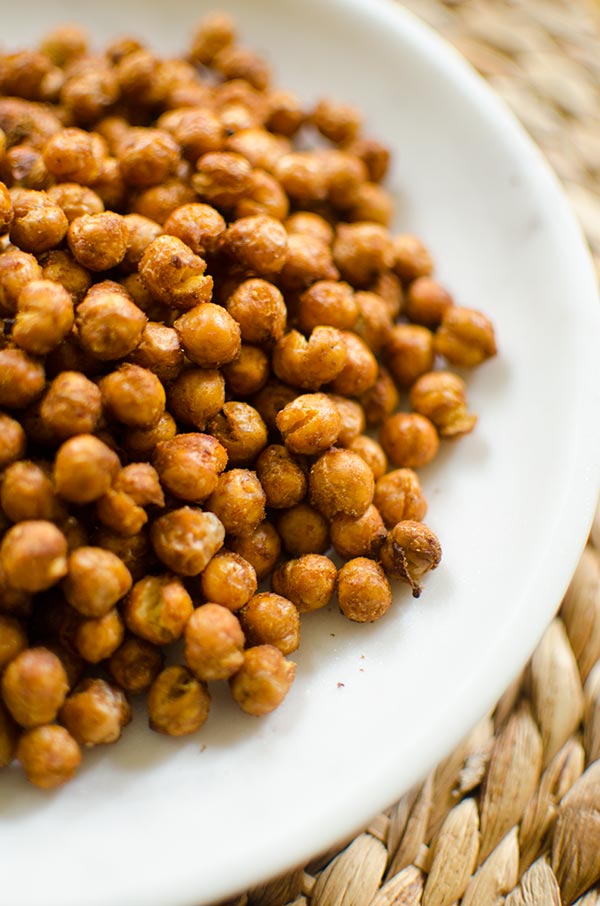 I love Indian flavours and I knew I wanted to go for something Indian-style for this recipe. I have a favourite Tandoori spice blend that I use all the time (my Tandoori chicken wings, for example) so I went with that for these crunchy chickpeas, but you can use one of your favourite spice blend that you have on hand, just make sure to keep the quantities for these air-fried chickpeas the same.
Air-fried tandoori chickpeas
Ingredients
1 19oz can chickpeas, drained and rinsed
1 tbsp olive oil
2 tsp tandoori masala (or your favourite spice blend)
3/4 tsp salt
Instructions
Preheat Airfryer to 200C.
In a large bowl, toss chickpeas with olive oil, spices and salt.
Arrange the chickpeas in a single layer in the fry basket and insert into the Airfryer. Cook for 8-10 minutes, shaking the chickpeas halfway through the cooking process. Remove and allow to cool on a baking sheet. Repeat with remaining chickpeas (one can of chickpeas takes two batches).
7.8.1.2
253
https://www.livinglou.com/air-fried-tandoori-chickpeas/
Disclosure: This post was sponsored by Philips – as always, all opinions are my own. Thank you for supporting my sponsors and allowing me to continue creating recipes like these air-fried tandoori chickpeas.