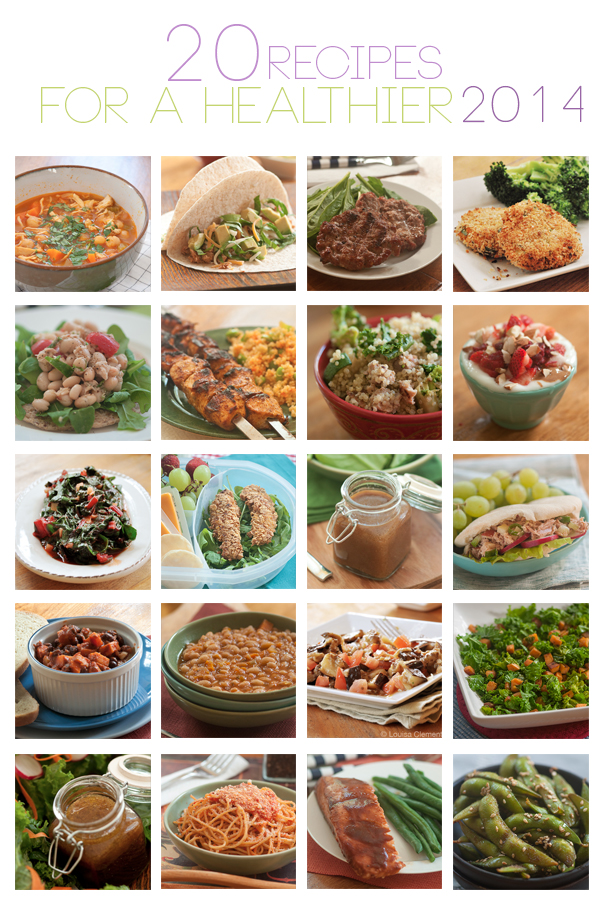 You guys – it's 2014! I'm so excited, especially now that everyone is done nursing those hangovers. To be completely honest, I'll be perfectly fine not having another cookie or another drink for a long time. Isn't there something almost electrifying about a new year? I love it. Everyone is so inspired and ready to make some healthy changes to their lifestyle – I think it's about time for a health kick.
To start the year off on the right foot, I've put together 20 of my favourite healthy recipes from the Living Lou archives. I hope these recipes will inspire you and show you that healthy eating doesn't have to be boring or complicated. Here's hoping that 2014 is your healthiest year yet!
Starting from the top row, going left to right:
Row 1: Moroccan Chicken Soup, Slow Cooker Shredded Chicken Tacos, 5 Ingredient Turkey Burgers, Baked Salmon Cakes
Row 2: White Bean and Tuna Salad, Chili Lime Chicken Skewers, Quinoa Bowl, Easy Breakfast for One
Row 3: Tomato Garlic Swiss Chard, Gluten Free Corn Flake Crusted Chicken Strips, Basic Balsamic Vinaigrette, Lighter Tuna Salad Pockets
Row 4: Vegetarian Chili, Slow Cooker White Bean Soup, Eggplant Salad, Sauteed Kale and Sweet Potatoes 
Row 5: Winter Kale Salad with Ginger Soy Dressing, Roasted Red Pepper Pasta Sauce, Asian-Style BBQ Roasted Salmon, Healthy Edamame Snack
There you have it, 20 simple and flavourful recipes for a healthier 2014 – let me know if you try any of them out.