In just 45-minutes you will have the perfect and tender baked potato cooked on the barbecue. Just wrap in foil and cook on the grill!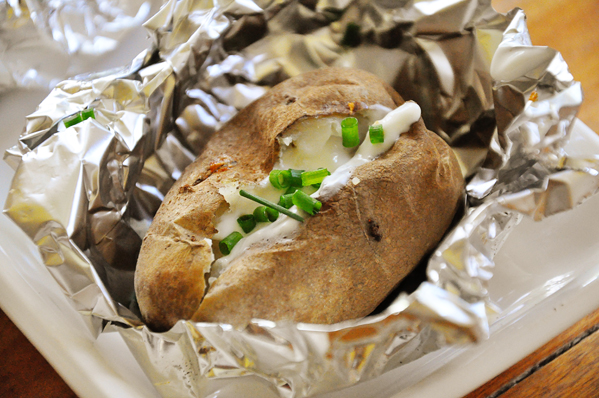 May is in full swing and with the beautiful, warm weather comes grilling season! Steak, chicken, shrimp, burgers, hot dogs… are all the obvious carnivorous grilling favourites, but we can't forget about the veggies. I love the way vegetables caramelize on the grill–charred veggies are a serious flavour bomb. Plus they grill up so quickly, it's kind of a no-brainer when you're grilling a main course like grilled chicken wings or turkey burgers.
Cooking baked potatoes on the barbecue is probably one of the easiest and most delicious dishes for a cookout. We really love potatoes over here–fried, mashed, roasted and of course baked! But I find in the summer, when the grill is already fired up, the last thing you want to do is heat up your kitchen (or entire apartment) by turning on the oven. Enter, baked potatoes on the barbecue!
Try making baked sweet potatoes on the barbecue for a healthy side.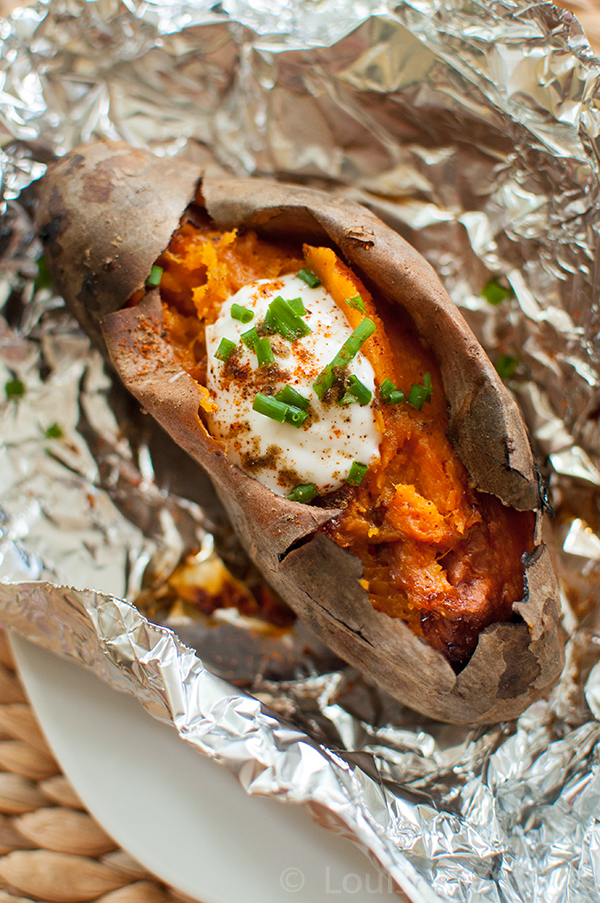 How do you make baked potatoes on the barbecue? Start by scrubbing your potatoes and piercing them with a fork, then wrap in foil and throw them on the grill. (Pierce them with a fork to avoid them exploding on the grill–it's never happened to me, but I did some research and apparently that's the reason we pierce potatoes before baking them). Then leave them on the grill for about 40-45 minutes, turning a few times to ensure even cooking.
I'm always extra careful when removing them from the grill because they will be insanely hot, so be sure to allow them time to cool before unwrapping the foil and slicing into the tender and pillowy potato–trust me, it's worth the wait.
You can top the baked potatoes with sour cream, cheese, bacon, chives, butter – all sorts of different flavours. There's something for everyone when it comes to baked potatoes. This isn't really a recipe, more of a 'how-to' so let's get started.
Baked Potatoes on the Barbecue
You'll never believe how easy it is to bake potatoes on the barbecue!
Ingredients
Instructions
Wash and pierce the potatoes using a fork.
Individually wrap them in tin foil, and bake for 40-45 minutes on the barbecue over high heat.
Cut open potatoes with a knife to check doneness, they will be hot so be careful for the steam. The skin should be soft and open up easily.
7.6.4
8
https://www.livinglou.com/baked-potatoes-on-barbecue/
Happy meatless Monday everyone and enjoy your baked potatoes and grilling season! Let me know if you give this baked potato grilling method a try in the comments below.