I'm a little late with my monthly "Month in Moments" feature (I also skipped July) that I started on here a couple of months ago. I use this as a little peak into some of the goings on in my life, and allow you to get to know me a little more. Because let's be real, it's not all food all the time, there are more things that make up my days and I think it's important to share those things because well, balance. Right?
I've decided to combine July and August into one post and take a look back at my summer.
July & August 2015 Recipes
If you were too busy enjoying the weather, away on vacation or just taking a break from technology, you may have missed some of the recipes I shared (there were nine new recipes!).
Cold Brew Iced Coffee with Mocha Ice Cubes
Top 10 Things to do in Banff, Alberta
Dark Chocolate Brownie Affogato
Lou Around the Web
I love to do more writing outside of here, in July and August I wrote a few new posts for Carly over at The College Prepster. I shared: 5 tips for summer slow cooking (we know how much I love my slow cooker), 5 tips for building a better salad, How to eat your way through a new city, 4 ingredients to cook with right now and 5 must-have items for your college pantry.
As part of my job, I shared eight new pieces on Chatelaine.com – they are posted every Thursday, so be sure to check them out (they are packed with tips and tricks in them). A few highlights:
Guide to 5 common cooking oils
5 things you didn't know about peaches
How to shop, store and use seasonal greens
5 things you didn't know about corn on the cob
10 common cooking techniques explained
July was filled with long walks with Sophie, barbecues and pizza. There was a pizza party with some of my favourite Toronto/Ontario area bloggers and then a couple of stops at Pizza Libretto in Toronto because I just can't get enough of pizza. Can anyone? (p.s. make your own dough in your bread machine and thank me later).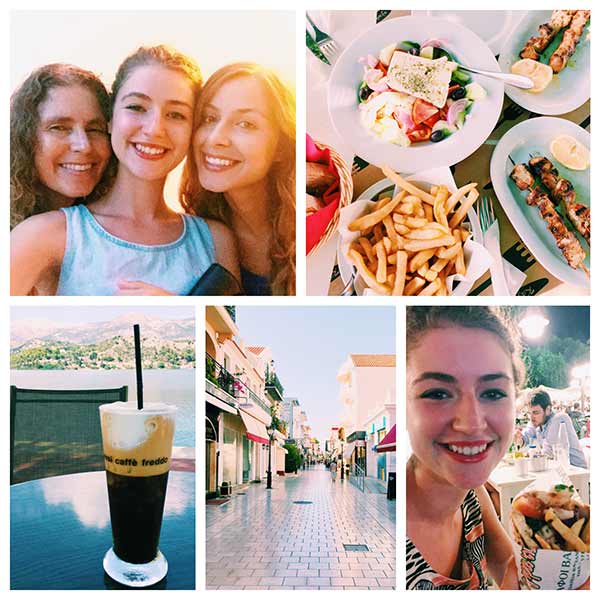 Most of August was spent in Greece. It was so wonderful to spend two and a half glorious weeks on Kephalonia, with its pastel coloured houses, clear blue water and sandy beaches. There were almost endless sunny days on the beach filled with DIY spa-like treatments from the naturally occurring clay, coffees by the sea, gyros and souvlakia. But for me, the highlight was getting to spend it all with my mom, sister and our friends we've known for what seems like ever. There were late nights dancing to Greek music, watching the sunset and sunrise on the water and crazy cab rides through the mountains (I will never understand how people can drive so fast on such narrow roads).
What's Coming this fall
I've had so much fun planning my content for the fall (I love fall and winter food, cozy stews and soups, pumpkin, apples, baked pastas and the like), here's a little preview of some of the recipes you'll see in the next couple of months.