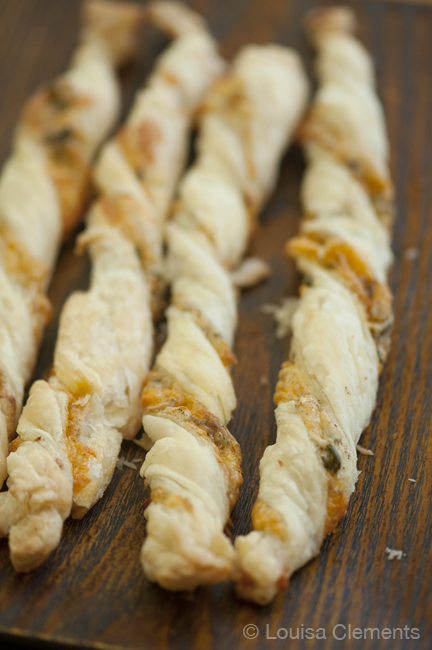 Frozen puff pastry is a life saver. I don't like to use frozen, pre-made ingredients often, but when it comes to puff pastry, I'll make an exception. I try to always keep a box in the freezer, because I can almost guarantee that there will be a time when you forget you need an appetizer for a dinner or barbecue you're hosting. Trust me, it will save your life, not to mention reputation. Ha! Just kidding, nobody really cares if you have an appetizer, but it's fun to play Martha Stewart every now and then. Plus, because these Jalapeno Cheddar Breadsticks are so easy, you might love them even more than your guests.
I've made many of these bread sticks before and they are one of the easiest (and most loved) appetizers you can make. It's amazing the way puff pastry can transform ingredients. If you're looking for some other options to make, give my Olive and Mozzarella Breadsticks a try. You know what would be even more fun? If you made the Jalapeno Cheddar Breadsticks and Olive Mozzarella Breadsticks at the same time and had options for your guests. This is why they pay me the big(!) bucks my friends.
Jalapeno Cheddar Breadsticks
Recipe by Lou
Ingredients
2 sheets frozen puff pastry, thawed
1 egg + 1 tbsp water, whisked
1 cup shredded cheddar cheese
2 jalapenos, seeded and finely diced
4 cloves garlic, diced
1 tsp pepper
1/4 tsp salt
Directions
Preheat oven to 400.
On a lightly floured surface roll out both pieces of  puff pastry and brush with egg wash.
In a medium bowl, mix together cheese, jalapenos, garlic, pepper and salt.
Leaving a 1/2 inch border, sprinkle one sheet of puff pastry with cheese mixture.
Place the second sheet of puff pastry on top of the first sheet. Pressing around the edges to seal.
Using a knife or a pizza cutter cut the sheets into 24 thin strips. Picking up by each end, twist the breadsticks and place on an ungreased baking sheet. Be sure to press down the ends of the dough onto the cookie sheet so that the breadsticks keep their shape.
Repeat with remaining dough and bake in the oven for 10-12 minutes.
Give these Jalapeno Cheddar Breadsticks a try at your next dinner party.
– Lou