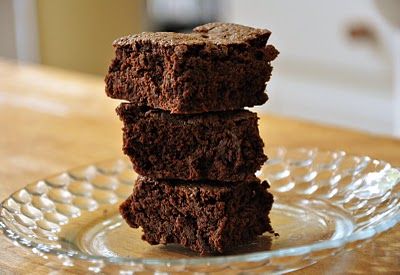 Being back in Greece again is absolutely wonderful, and I'm full of new cooking inspiration! I can't wait to post about what I've been up to, but until then I'll leave you with these "delish" brownies!
These brownies get their title from my Grandmother, who thought that they were positively "delish". Anyway, these are quick and easy and probably one of the best brownie recipes because they would be impossible to mess up, and finally, because, well, they're Martha Stewart's! I've made these a few times, and have therefore made a few adjustments to the original recipe.
Ingredients (makes 9 large or 16 small squares)
6 tbsp unsalted butter
6 oz coarsely chopped semisweet chocolate
1/4 cup unsweetened cocoa powder
3/4 cup all-purpose flour
1/4 teaspoon baking powder
1/8 tsp salt
1 cup sugar
2 eggs
1 tsp vanilla extract
Directions
Preheat oven to 350 degrees. Line a 8-inch pan with parchment paper, and grease the parchment paper.
Melt butter, chocolate and cocoa in a heatproof bowl over a pot of simmering water. Stir together until melted. Once melted, cool slightly.
Whisk together the flour, baking powder and salt in a bow, and set aside.
Beat sugar, eggs and vanilla in a bowl with an electric mixer for 4 minutes. Add the melted chocolate mixture and beat until combined. Add the flour mixture and beat, scraping down the sides of the bowl until completely combined.
Pour batter into the prepared pan and bake until a cake tester comes out with a few crumbs (but not wet!), which takes about 35 minutes.
Let the brownies cool in the pan for about 15 minutes and then lift out the brownies using the parchment paper. Let cool completely before cutting into squares.
So there you go, the perfect brownies! If you feel like adding in some extras try adding in some nuts, or chocolate chips.
– Lou
recipe adapted from: Martha Stewart's Double Chocolate Brownies