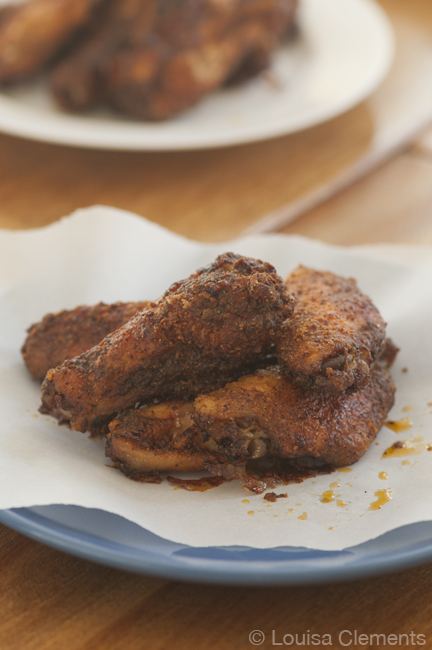 I have so many thoughts rushing through my head right now that coming up with a coherent sentence is proving to be a huge challenge. But I want to write about these Crunchy Baked Chicken Wings and how good they are. And how they are healthier than your favourite fried chicken wings. And how they are so easy. But it would be nice if I could put that all in a fluffy, beautiful, compound sentences. Maybe I could even throw a few metaphors and similes in there…
Hmm, not today, my friends.
I have a serious addiction to chicken wings. Which you will know if you've been reading Living Lou for a while, I've shared recipes for Baked Buffalo Chicken Wings and my all time favourite, Living Lou's Chicken Wings. I knew that the next type of chicken wing I wanted to was a crispy, baked chicken wing that's healthier than the deep friend variety. I turned to corn starch to create the crunch and a couple of favourite spices – chili powder and cumin – to create a unique chicken wing.This recipe is simple and I have a feeling that kids and adults alike will go crazy for these wings.
Crispy Baked Chicken Wings (serves 4-6)
Recipe by Lou
Ingredients
2 1/2 lbs chicken wings
4 tbsp corn starch
2 tbsp brown sugar
2 tsp salt
2 tbsp chili powder
1 tsp garlic powder
Directions
Preheat oven to 350. Prepare a baking dish with a piece of tinfoil.
Combine corn starch, brown sugar, salt, chili powder and garlic powder in a large bowl. Toss with the chicken wings. Allow to sit for 10 minutes, allowing the spice mixture to absorb into the wings. Toss again, letting to sit another 5 minutes or until most of the spice mixture has been absorbed into the chicken.
Place wings on the baking sheet and bake for 20 minutes.
Remove from oven and flip over. Cook for another 20 minutes.
Chicken wings are a great way to make something different and delicious for dinner and these Crispy Baked Chicken Wings taste like they've been fried without all that added fat.
You see, as much as I love all chicken wings, I have a soft spot in my heart for the crunchy, friend, unhealthy variety…which is not something I want to be eating too often. I set out to create a healthier, alternative and I think I've hit the jackpot.