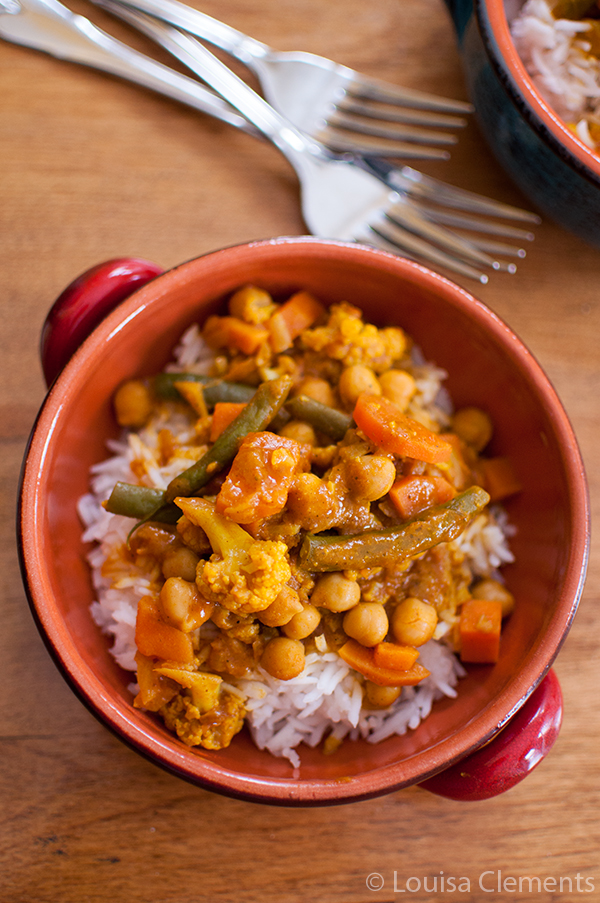 I know it's hard to believe that there is such a thing as "healthy comfort food" but this Vegetarian Curry is that. I know, I didn't think it existed either. Plus, this recipe actually happens to be vegan, which is a pleasant surprise for those of us trying to include more vegan meals into our diets. It might surprise you that curry is a new love of mine. I used to hate it a couple of years ago, and it's only been in the past year or so that I've started to love it. I am so glad that I decided to give curry (and cauliflower for that matter) a second chance! It's packed with flavour and is perfect for this freezing, polar vortex filled winter we're having.
Along the idea of trying new foods, something I'm doing this year is trying more new things. Whether it's new foods, new activities, new classes, new recipes or new restaurants, I feel like trying new things leads to new experiences and great memories. If left to my own devices, I feel like I could spend hours on my couch browsing Pinterest and binge-watching any show on Netflix. But not this year, so far I've filled January with lots of new things. Everything from snowshoeing to going to a basketball game to taking a class in classical music theory, it's kind of all over the place. I even tried a new style of photography for this curry – a high angle shot. I'm realizing that it's a lot of fun to challenge yourself with new things.
Food for thought
How do you feel about trying new things? Have you tried anything new recently and been pleasantly surprised? Any ideas for new things to try next month?
Add this healthy, vegetarian curry to your weekly menu!
Ingredients
2 tbsp olive oil
1 onion, diced
2 cloves garlic, finely minced
1 tbsp freshly grated ginger
2 tbsp curry powder
1 tbsp ground coriander
1 tsp cumin
1 tsp turmeric
1 tsp pepper
1/2 tsp salt
1/2 tsp cayenne pepper
1/2 cup crushed tomatoes
1 1/2 cups vegetable stock
1 cup coconut milk
1/2 head cauliflower, chopped
2 carrots, sliced
2 cups diced sweet potato (1 medium)
1 cup chopped green beans
1 15oz can chickpeas, drained and rinsed
Instructions
In a large pot, heat olive oil over medium heat.
Cook onions for 3-4 minutes or until softened.
Add garlic and ginger, cook for another minute.
Add spices, cook until fragrant.
Add crushed tomatoes, stirring to create a paste with the spices and onion mixture.
Add coconut milk and vegetable stock.
Add all the vegetables.
Bring to a boil, reduce to a simmer and cook uncovered for 15 minutes.
Stir in chickpeas.
Serve over rice.
Notes
Recipe by Louisa Clements
http://www.livinglou.com/2014/01/vegetarian-curry-2.html
Vegetarian Curry is a healthy delicious comfort food for these cold winter evenings.