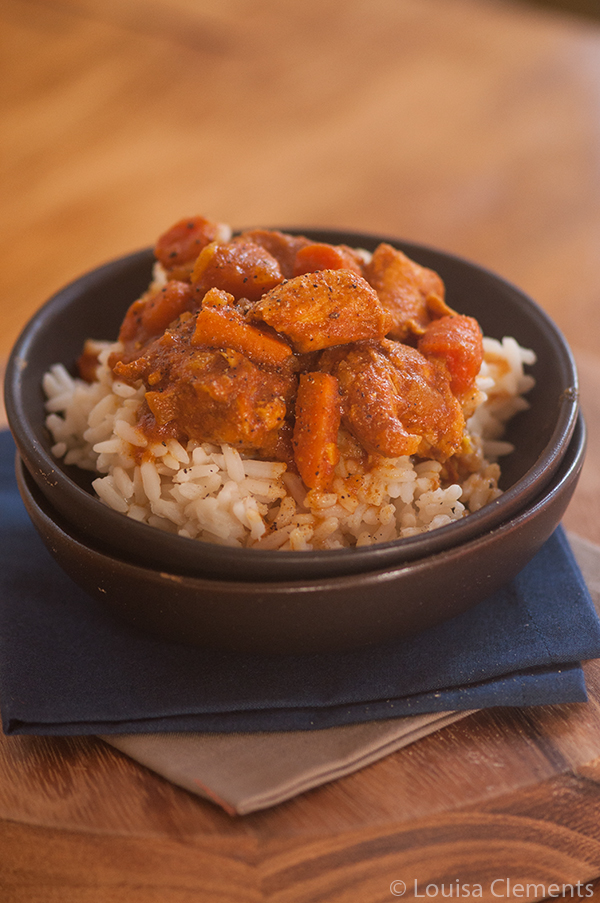 My slow cooker was a lifesaver last weekend. Between film shoots, chicken wings, blogger outings, brunches and homework there wasn't much time to spend over a hot stove. Mind you, somehow I did manage to get in some chocolate chip cookie baking, and was able to perfect another slow cooker recipe coming your way soon. Now that I think about it, I'm not really sure how I packed that much into one weekend. But it happened, and it was great. (Follow me on Instagram for a behind the scenes look!) 
Ever since I made Moroccan Chicken Soup last year, I've fallen in love with Moroccan flavours. I love the depth and how the combination of spices are so different from the recipes I typically create. If you're looking for something with a little bit of an ethnic flair, I highly recommend trying this slow cooker Moroccan chicken stew recipe. You might be surprised by the sheer amount of spices used, but when you finally get a chance to taste this stew, you'll understand. This recipe requires a about 10 minutes of cooking on the stove before dumping into the slow cooker, but it's well worth it.
Slow Cooker Moroccan Chicken Stew
Slow Cooker Moroccan Chicken Stew is a flavourful stew that cooks all day in your slow cooker.
Ingredients
2 tbsp olive oil
1 onion, chopped
3 tsp cumin
2 tsp paprika
2 tsp turmeric
1½ tsp ginger
½ tsp cinnamon
½ tsp black pepper
½ tsp salt
5 boneless, skinless chicken breasts, diced
1 medium sweet potato, cubed
2 medium carrots, sliced
5 cloves garlic, crushed
1¼ cup crushed tomatoes
1 cup water
Instructions
In a large pan, preheat olive oil over medium high heat.
Add onion, sauté until beginning to soften about 2-3 minutes.
Meanwhile, coat diced chicken in 1 tbsp of spice mixture.
Add chicken to pan and brown - about 4-5 minutes.
Add garlic, sweet potato, carrots and remaining spice mixture. Cook for 2 minutes.
Dump chicken and vegetables into slow cooker.
Add crushed tomato and water to the pan you cooked the vegetables and chicken in. Stir to loosen up brown bits on bottom of the pan.
Dump liquid into slow cooker.
Cook on low heat for 4-6 hours.
Notes
Recipe by Louisa Clements
Let me know if you give this slow cooker Moroccan chicken stew a try!