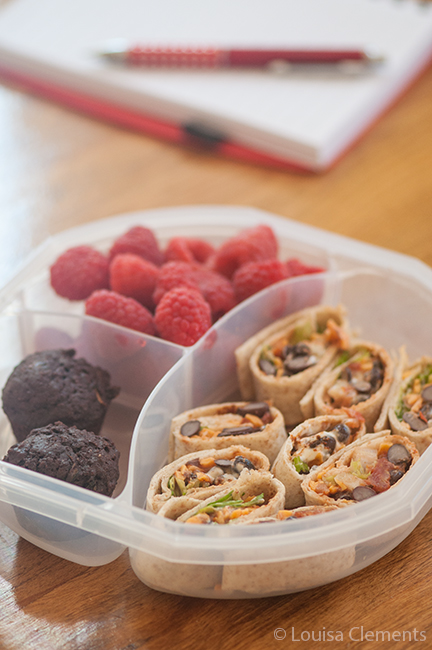 I'm always trying to incorporate more vegetarian meals into my diet. You might remember, a couple of years ago I tried to do the Meatless Monday thing but I found that sticking to a precise schedule was a challenge. I ended up giving up on that, which still disappoints me to this day because I'm not the type of person who gives up on things easily. I've found that having vegetarian meals here and there throughout the week works better for me. It leaves more room for spontaneity.
I started making Vegetarian Taco Wraps about a year ago for lunches. As you can see, I cut my wraps up so they are bite sized, which means that I can eat them when I'm on-the-go in the car. I'm pretty much always running from one thing to the next (the epitome of an "over-scheduled child" except that I'm 20 and did it to myself!) The protein from the beans is a nice protein and energy boost to keep you going throughout the afternoon. I find that these wraps make a great lunch option but are also a great idea for a fast dinner. I'm almost positive that you have all these ingredients in your fridge and pantry right now, so why not whip these up for dinner?
A simple, protein packed wrap perfect for a school or work lunch.
Ingredients
4 whole grain mini tortillas
1 cup black beans
1 tsp chili powder
1/2 tsp cumin
1/3 cup salsa
3 tbsp sour cream
1/2 cup grated cheddar cheese
4-5 romaine leaves, sliced
Instructions
Mix black beans with chili powder and cumin.
To make 4 wraps, layer each wrap evenly with black beans followed by salsa and sour cream.
Sprinkle with grated cheese and romaine leaves.
Wrap tightly and slice into bite-sized pieces or leave whole.
http://www.livinglou.com/2013/09/vegetarian-taco-wraps.html
These Vegetarian Taco Wraps make a delicious lunch or fast dinner.