It's December which means three things; cookies, holidays and unfortunately, exams. This is how it works, I bake (and devour) an insane amount of cookies during exams – these Chocolate Ginger Molasses Cookies are a result of those stress induced baking sessions. Then the holidays come and I'm all cookie-d out, but I power through and bake (and eat) more cookies. Then, January hits and I don't want to see a cookie for two months – which is helpful for my annual "time to get healthy" New Year's resolution.
Back in October (2 months ago already – wow!) I hinted at some holiday recipes on Instagram and well, I can finally share them with you. I created three recipes for a favourite online magazine of mine, Sweet Lemon Magazine. You can find the recipes for Cozy Hot Cocoa, Flourless Chocolate Cake and Apple Cranberry Bundles in my feature A Girls Night In For the Holidays on pages 122-124.
And here's a little behind-the-scenes from my shoot for Sweet Lemon! That's me on the left, Sophie (who was really wanting some Cozy Hot Cocoa) and my lovely mother. Also, I'll be blogging for Sweet Lemon as a resident foodie over on their Zesty Digest Blog – check me out!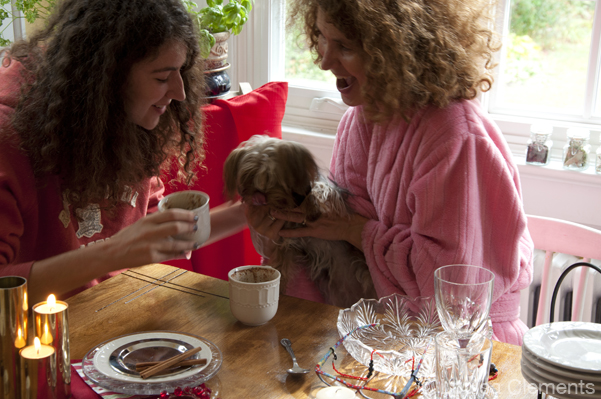 Back to the Chocolate Ginger Molasses Cookies, they were a pre-exam creation. They are a take off of my favourite Ginger Molasses Cookies and my favourite cookbook, The Flavor Bible, says ginger and chocolate go together really well. Like Audrey Hepburn and Gregory Peck in Roman Holiday, so I knew I had to try out this combination. What I love about these cookies is that first you taste the chocolate and then there is a hint of ginger and molasses, which becomes even more flavorful and is the perfect aftertaste. If there is one cookie to make this holiday season, it's definitely these Chocolate Ginger Molasses Cookies.
Chocolate Ginger Molasses Cookies
Combine chocolate, ginger and molasses into one chewy cookie!
Ingredients
2 cups all-purpose flour
2 tbsp cocoa powder
2 teaspoons ground ginger
2 teaspoon baking soda
¾ teaspoon cinnamon
½ teaspoon ground cloves
¼ scant teaspoon salt
¾ cup butter, softened
½ cup brown sugar
½ cup white sugar + 3 tbsp for rolling dough
1 egg
¼ cup molasses
1 tsp vanilla
1 cup chocolate chips
Instructions
Preheat oven to 325.
Line two baking sheets with parchment paper.
In a medium bowl, whisk together flour, cocoa powder, ground ginger, baking soda, cinnamon, cloves and salt.
In the bowl of an electric mixer, fitted with the paddle attachment, cream butter and sugars together until light and fluffy, about 2-4 minutes.
Add egg, molasses and vanilla. Beat until combined.
In two additions, beat in the flour mixture. Finally, stir in chocolate chips.
Roll dough into 1½ inch balls and coat in sugar. Refrigerate for 15 minutes before baking.
Bake for 10-12 minutes until the surfaces are slightly cracked. Let cool for 5 minutes then remove to a wire rack to finish cooling.
Notes
Recipe by Louisa Clements
Let me know if you try these cookies this season!